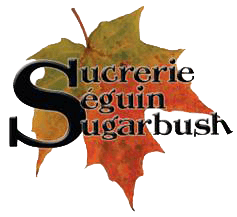 Tours
Our 2017 Maple Production Season has now ended, along with tours of our Sugarbush.
Please join us in 2018!
Sucrerie Séguin Sugarbush welcomes the public wanting to learn about the historical, scientific and creative elements of sugar making in the West Nipissing and French River Regions of Ontario. We are open during the season from mid-March to most of April on Sunday afternoons from 12 pm to 4 pm. Enjoy your voyage by foot or ATV on the 2 km trail winding through the mixed forest from the Dokis Road to the sugar camp.
Come witness the process, following the sap from the tree to the wood-fired evaporator. Visitors will be given a guided tour of the facility and taffy on snow is offered to those who wish to savour nature's sweet treat. Bring along your lunch to enjoy a picnic! It's spring! Don't forget your rubber boots!! A nice outing for the entire family!
Groups should contact us for an appointment in advance!
Please note our special hours for Maple Weekend – the first weekend in April when we will be open both Saturday and Sunday from 10 am to 4 pm.
L'érablière Sucrerie Séguin Sugarbush chevauche les régions du Nipissing-Ouest et de la Rivière-des-Français. Il nous fait plaisir d'accueillir tout visiteur intéressé par le parcours historique, l'aspect scientifique et le côté artisanal impliqués dans la fabrication du sirop d'érable et ses sous-produits. De la mi-mars à presque tout le mois d'avril, dépendant des conditions de la météo, nos heures d'ouverture sont les dimanches de 12h00 à 16h00.
L'accès à l'érablière se fait à partir du chemin Dokis, soit par VTT ou à pied sur un sentier de 2 km à travers une forêt mixte. Vous serez en mesure d'assister au processus que doit subir la sève en provenance de l'arbre pour finir à l'état sirop sur un évaporateur chauffé au bois. Nous offrons aux visiteurs un tour guidé de notre emplacement et l'occasion de déguster de la tire sur la neige, si désiré. Vous pouvez apporter votre goûter, votre collation et votre breuvage. Le port de bottes de caoutchouc est essentiel!! C'est le printemps dans toute sa gloire…une belle occasion pour une randonnée de famille!
Pour réservation de groupe, veuillez communiquer à l'avance!
À noter – nos heures d'ouverture pour la première fin de semaine d'avril seulement, Maple Weekend, sont samedi et dimanche 10h00 à 16h00.