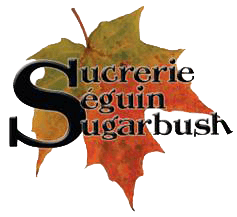 Sucrerie Seguin Sugarbush Products
Our products are available at the sugarbush during the season,and in Lavigne and Alban year-round by chance or appointment.
Our products are also available in the following communities and retail outlets:
Alban at Lemieux Meats
French River at The French River Trading Post and French River Supply Post
Garson at Garson Foodmarket
Hagar at Creative Meats
Kapuskasing at Fromagerie Kapuskoise
Noëlville at Foodland and Mayer's Esso
North Bay at Local Matters
St. Charles at St. Charles Foodmarket
Sturgeon Falls at Aliments en Vrac Nipissing Food in Bins, Boulangerie Chez Jean-Marc and Leisure Farms
Sudbury at Durham Natural Foods, Eat Local Sudbury Co-op, Smith's Markets and The Wellness Shoppe
Thornloe at Thornloe Cheese Factory
Verner at Foodtown
Warren at Kate's Kountry Kitchen
Also, please support the local restaurants that use our products in their menus.
PLEASE NOTE!
AT THIS TIME WE ACCEPT CASH OR CHEQUES ONLY.