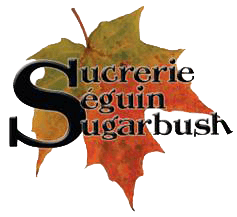 Sucrerie Seguin Sugarbush
Our 2017 Maple Production Season has ended.
For products, please visit our farm in Lavigne (see address at bottom of page) or one of the retailers listed on our product page.
See you back in the bush in 2018!
Directions
To get to the sugarbush from Highway 64 in Monetville, follow the Dokis Reserve Road for 9 km. To the right will be the sugarbush road located at 1838 Dokis Reserve Road. Be prepared to proceed by foot or ATV for the final 2 km. It's spring! Don't forget your Rubber Boots!