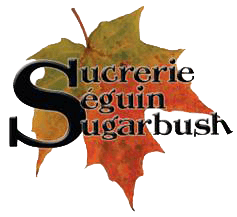 Sucrerie Seguin Sugarbush
Sucrerie Séguin Sugarbush is nestled into 200 acres of rolling mixed forest of Falconer Township. Every spring we drill the maple trees greater than 10 inches in diameter, and place about 8000 health spiles. Vacuum is used to create a low pressure system, encouraging sap under higher pressure in the tree to enter the food grade tubing system, where it is transported from the tree to one of three collection stations.
It is then pumped to our evaporator house which was newly constructed in 2013. The sap is processed through a reverse osmosis system, which removes about two-thirds of pure water (takes the sap from approximately 2% sugar content to 6% sugar content), a tremendous energy-saving process! The concentrated sap is then boiled vigorously on our 4 x 15 foot high efficiency wood-fired evaporator. At 67% sugar content, the syrup exits our evaporator through an automatic take-off valve.
We filter our maple syrup using a 10 plate filter press. The syrup is pumped into a 34 gallon water-jacketed basin in our bottling room, equipped for hot packing an assortment of glass bottles, plastic jugs or stainless steel barrels. Each batch of syrup pulled from the evaporator is density tested and colour graded. Our bottling room doubles as a product kitchen and as a small store-front where product may be purchased on site during the maple season.
L'érablière Séguin s'étend sur 200 acres de forêt mixte sur un terrain vallonné dans le canton Falconer. Au printemps, on entaille les érables dont le diamètre excède 10" pour y fixer approximativement 8000 chalumeaux santé. La sève que circule sous haute pression dans le tronc de l'arbre est amenée à couler dans un réseau de tubulure grâce à un vacuum qui produit l'effet de basse pression.
Cette sève parvient à trois postes de pompage situés en forêt pour ensuite être acheminée vers d'immenses bassins d'entreposage situés dans la cabane à sucre érigée en 2013. C'est là, à l'aide d'un système d'osmose que deux tiers d'eau pure est extrait de la sève. Ce processus permet au taux de sucre dans la sève de passer de 2% à 6%, apportant ainsi une grande économie d'énergie et de temps! Ce même concentré de sève est ensuite bouilli sur un évaporateur à haute efficacité alimenté au bois. Lorsque le sirop atteint une concentration de 67% en taux de sucre, le liquide se déverse automatiquement dans un bassin, puis filtré à travers une presse à multiple compartiments. Le sirop filtré est ensuite pompé dans un bain-marie de 34 gallons prêt à être embouteillé chaud dans une variété de contenants en plastique, en verre ou dans des barils d'acier inoxydable. Tout sirop en provenance de l'évaporateur est calibré selon sa densité et sa couleur. Dans notre salle d'embouteillage nous fabriquons également le beurre et le sucre d'érable et une section sert de point de vente durant la saison des sucres.